U.S. Supreme Court Expresses Interest in Addressing New Jersey Laws Criminalizing Certain Gun Activities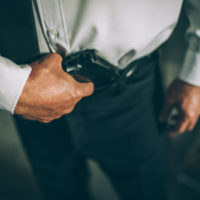 Last year, New Jersey took a number of measures to implement some of the nation's strictest gun control laws, criminalizing a broad array of activities involving guns, such as making it illegal for residents to have a carry permit unless they first demonstrated a "justifiable need"; amongst other activities.
Now, a number of gun rights advocates have challenged the decision, and it appears that the U.S. Supreme Court may be interested in taking up the issue. On February 19, the Court mandated that New Jersey take a position on the request by March 21.
The Case
The case was filed by one New Jersey citizen in conjunction with the National Rifle Association state affiliate who cannot obtain a permit because he reportedly cannot demonstrate a "justifiable need" to carry a gun. He argues that the Second Amendment provides him with the right to bear arms in public for the sake of self-defense, regardless of whether he has a "justifiable need."
Now a number of attorneys general and governors from 23 states have also filed an amicus brief arguing for his side, urging the Court to take the case. They argue that the state's requirements are per se unconstitutional and undermine public safety because permit-holders are more law-abiding than other citizens and facilitate public safety by being enabled to respond to a criminal attack with a firearm. In the amicus, these states argue that the U.S. Supreme Court has already held that the Second Amendment guarantees the right of every individual to "carry weapons in case of confrontation" and this includes the right to "wear, bear, or carry… in the clothing or in the pocket." The Court also found that these Second Amendment protections are applicable to the States via the 14th Amendment. Still, the Courts of Appeal are divided on the issue of whether individuals have the right to carry weapons for the purpose of self-defense outside of the home.
The amicus also puts forth the argument that there are less restrictive means of accomplishing the same goal of reducing crime, and that is via "shall-issue" permit regimes instead of "may-issue" regimes, the latter of which New Jersey has pursued. According to the states' arguments, 42 states provide someone with a permit if they pass a certain set of objective criteria, such as passing a background check, get fingerprinted, go through training, pass a mental health records check, etc.
Contact Our New Jersey Criminal Defense Attorneys to Find Out More
If you have been accused of a weapons charge in New Jersey, contact our experienced New Jersey criminal defense attorneys at the office of Phillip J. Murphy today for a free consultation to find out how we can help.
Resource:
guns.com/news/2019/02/20/supreme-court-signals-interest-in-new-jersey-concealed-carry-challenge
https://www.phillipmurphylawyer.com/new-jersey-moves-to-criminalize-certain-activities-involving-guns/